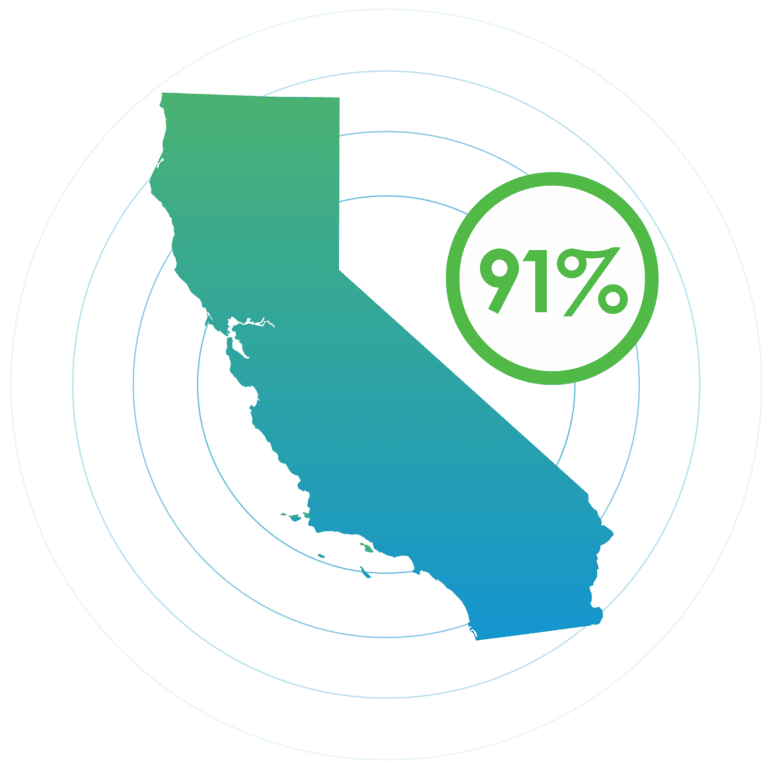 California earns A- grade for climate action in comeback year
With an unprecedented year of climate leadership, California improved its Scorecard grade from a D in 2021 to an A- in 2022! We should all be energized by the progress made and the willingness leaders have demonstrated to take on corporate polluters. Yet as historic as this year was, it has to be the beginning of a new era of climate action in our state. If California sustains this climate courage in future years, we can truly create the global roadmap to solving the climate crisis and advancing justice.
We have a TON to celebrate from 2022:
The historic multiyear $54 billion** climate investment in the state budget gives us a roadmap to solve the climate crisis and advance justice. With advocacy by EnviroVoters, local partners, and the broader environmental community, the state's final climate budget passed in June 2022 grew 46% from its original proposed amount the previous January! This means critical funding for green infrastructure, clean energy transmission projects, community resilience centers, offshore wind projects, and much more.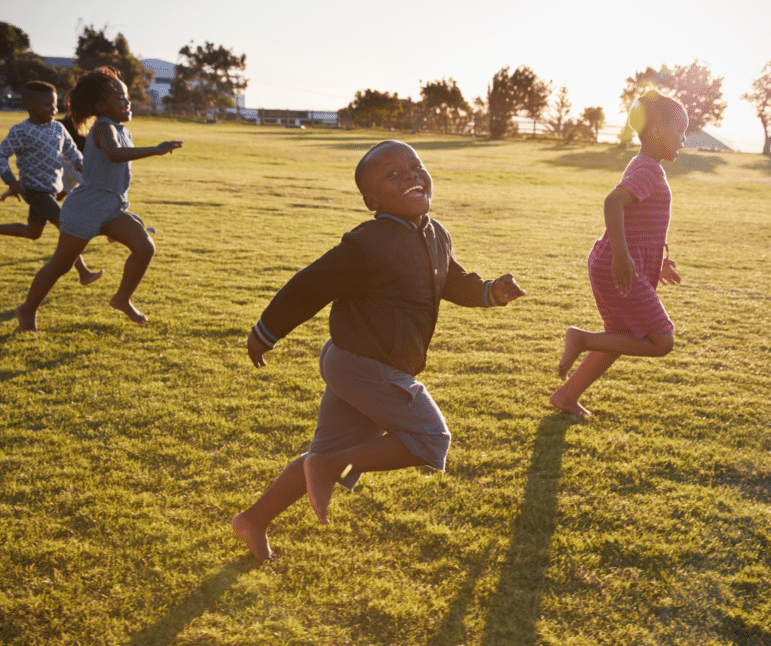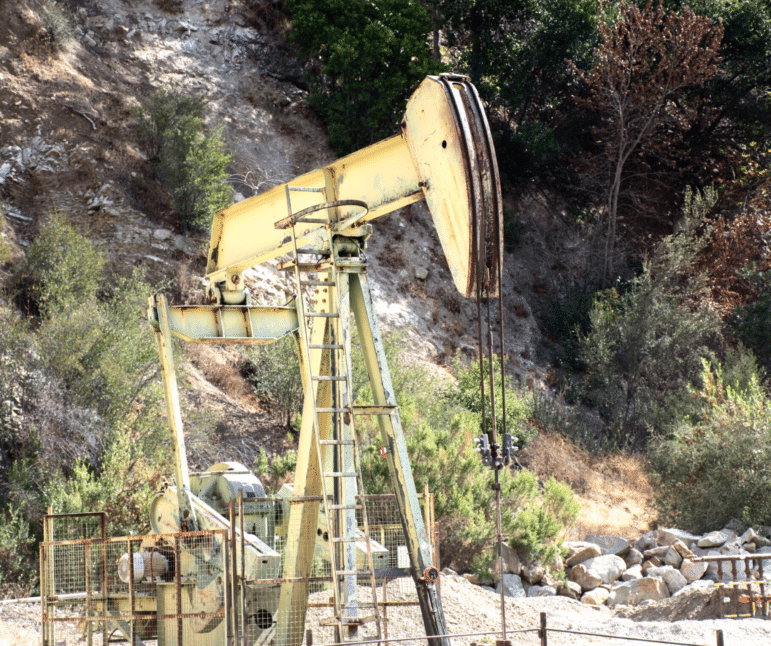 SB 1137: Protects frontline communities by creating a 3,200-foot health and safety setback between oil and gas drilling and homes, schools, hospitals, and other sensitive places.
SB 1314: Bans the use of captured carbon for "enhanced oil recovery," a greenwashing practice that fossil fuel companies wanted to use to drill for more oil while claiming to address the climate crisis.
AB 1279: Codifies into law the state's commitment to achieving carbon neutrality as soon as possible, but no later than 2045, paired with a strong 85% direct emissions reduction target.
AB 1757: Requires the state to develop an achievable carbon removal target for California's natural and working lands.
SB 54: A first-in-the-nation policy that requires all single-use plastic packaging and foodware to be recyclable or compostable by 2032.
SB 1020: Establishes interim SB 100 goals with a more aggressive timeline for the state to achieve 100% clean energy by 2045.
The California Air Resources Board approved the Advanced Clean Cars II rule to accelerate the transition to 100% zero-emission new vehicle sales by 2035.
The California Energy Commission adopted historic California offshore wind goals, enough to power upwards of 25 million homes.
The Public Utilities Commission eliminated state subsidies for developers to install new fossil gas lines in residential and commercial buildings.
A Memorandum of Understanding was signed between the Yurok Tribe and California State Parks to authorize joint management of all portions of North Coast Redwoods state parks that fall within the boundaries of the Yurok Tribe's ancestral home.
The California Air Resources Board voted to ban the sale of new gas-powered furnaces and water heaters to ensure we take an important step in reducing emissions from our buildings.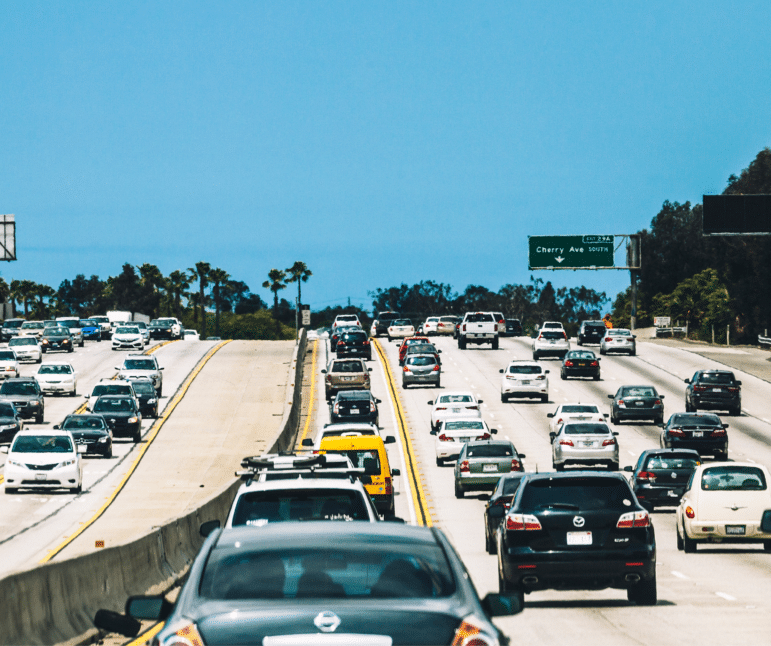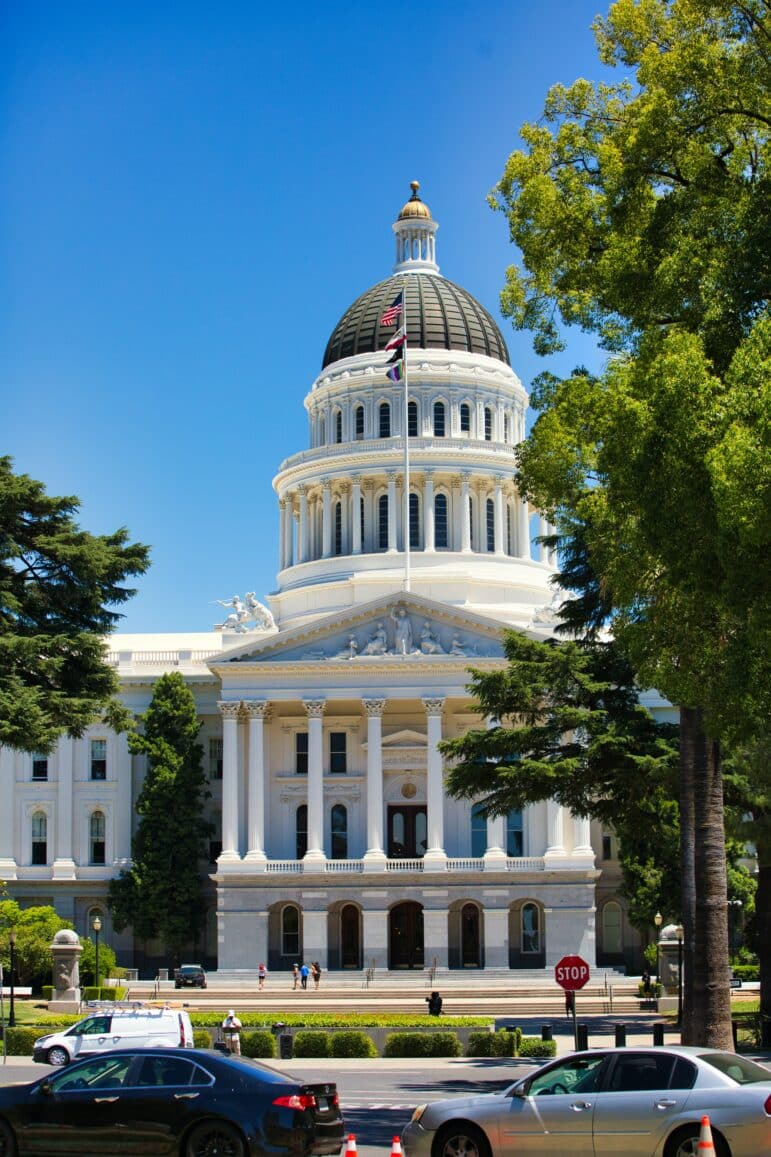 In 2023, we will be making it clear:
Oil money is toxic.
Corporate responsibility
is key.
Corporate polluters continue to try to buy their influence in Sacramento, with 63% of legislators accepting oil money. No serious conversation about climate action can leave out corporate disclosures and reductions. In 2022, the Legislature was just one vote shy of passing SB 260, a groundbreaking bill that would have required $1 billion-plus corporations doing business in California to disclose their total carbon emissions in an accessible and understandable way to the public. Corporate accountability must be a priority for 2023.
How did we determine California's score?
California's 2022 Environmental Score is a measure of how California did overall on advancing climate and environmental policy through legislation, the state budget, and regulatory actions. To calculate the California score, we tracked the outcome of 55 total environmental bills that were introduced in 2022, the historic $54 billion** climate budget, five major regulatory actions, and the failure of Prop 30. An extra +6% was added onto the overall score to account for the six major climate bills that passed into law, which deserve extra recognition.
Bill
Final Result
AB 30 (Authored by Assemblymember Kalra) Equitable Outdoor Access Act

Signed into Law

AB 284 (Authored by Assemblymember Robert Rivas) Natural and Working Lands Climate Goal

Failed

AB 759 (Authored by Assemblymember McCarty) – Moving County Sheriff Elections to General Election timelines

Signed into Law

AB 1279 (Authored by Assemblymembers Muratsuchi and Cristina Garcia) Committing to Carbon Neutrality

*This bill was used to score legislators in 2022

Signed into Law

AB 1389 (Authored by Assemblymembers Reyes, Friedman, and Luz Rivas) Funding for Clean Transportation

Signed into Law

AB 1749 (Authored by Assemblymember Cristina Garcia) Reducing Toxic Air Pollution in Communities

Signed into Law

AB 1757 (Authored by Assemblymembers Cristina Garcia and Robert Rivas) Nature Based Carbon Removal Targets

*This bill was used to score legislators in 2022

Signed into Law

AB 1778 (Authored by Assemblymember Cristina Garcia) Stopping Freeway Expansions in Environmental Justice Communities

*This bill was used to score legislators in 2022

Failed

AB 1857 (Authored by Assemblymember Cristina Garcia) Ending Government Incentives for Trash Incineration

Signed into Law

AB 1909 (Authored by Assemblymember Friedman) Incentives for Bicycle Infrastructure and Safety

Signed into Law

AB 1919 (Authored by Assemblymember Holden) Providing Free Transit for California Youth

Vetoed

AB 1931 (Authored by Assemblymember Luz Rivas) Protecting Californians from Toxic Lead Pipes

*This bill was used to score legislators in 2022

Failed

AB 1985 (Authored by Assemblymember Robert Rivas) Reducing and Reusing Organic Waste

Signed into Law

AB 2026 (Authored by Assemblymembers Friedman and Ting) Reducing Plastic Waste from Online Shopping

*This bill was used to score legislators in 2022

Failed

AB 2061 (Authored by Assemblymembers Ting and Reyes) Support for Electric Vehicle Charging Infrastructure

Signed into Law

AB 2075 (Authored by Assemblymember Ting) Standards for Electric Vehicle Charging

Signed into Law

AB 2108 (Authored by Assemblymembers Robert Rivas and Cristina Garcia) Water Equity for Disadvantaged and Tribal Communities

Signed into Law

AB 2133 (Authored by Assemblymember Quirk) Accelerated Climate Targets

*This bill was used to score legislators in 2022

Failed

AB 2146 (Authored by Assemblymember Bauer-Kahan) Reducing Residental Applications of Toxic Pesticides

Vetoed

AB 2201 (Authored by Assemblymember Bennett) Community Drinking Water Protection Act

*This bill was used to score legislators in 2022

Failed

AB 2204 (Authored by Assemblymember Boerner Horvath) Integrating Climate Leadership at the Labor and Workforce Development Agency

Signed into Law

AB 2237 (Authored by Assemblymember Friedman) Climate Accountability for Transportation Projects

*This bill was used to score legislators in 2022

Failed

AB 2238 (Authored by Assemblymembers Luz Rivas, Cristina Garcia, and Eduardo Garcia) Creation of Statewide Extreme Heat Ranking System

Signed into Law

AB 2243 (Authored by Assemblymembers Eduardo Garcia and Luz Rivas) Improving labor standards to better protect outdoor workers from extreme heat and poor air quality.

Signed into Law

AB 2247 (Authored by Assemblymember Bloom) Perfluoroalkyl and polyfluoroalkyl substances and PFAS products and product components: publicly accessible reporting platform

Vetoed

AB 2278 (Authored by Assemblymember Kalra) Reporting and Accountability on State's Progress towards Biodiversity and Conservation

Signed into Law

AB 2316 (Authored by Assemblymember Ward) Making Community Solar and Storage Affordable for Low-Income Californians

*This bill was used to score legislators in 2022

Signed into Law

AB 2419 (Authored by Assemblymember Bryan) The California Justice 40 Act

*This bill was used to score legislators in 2022

Failed

AB 2438 (Authored by Assemblymember Friedman) Aligning Transportation Investments with Climate Goals

*This bill was used to score legislators in 2022

Vetoed

AB 2440 (Authored by Assemblymember Irwin) Responsible Battery Recycling Act of 2022.

Signed into Law

AB 2550 (Authored by Assemblymember Arambula) Restore Clean Air for the San Joaquin Valley

*This bill was used to score legislators in 2022

Vetoed

AB 2597 (Authored by Assemblymember Bloom) Healthy and Heat Resilient Homes

*This bill was used to score legislators in 2022

Failed

AB 2731 (Authored by Assemblymember Ting) Electric school buses

Failed

AB 2836 (Authored by Assemblymember Eduardo Garcia) Reducing Pollution from Cars and Trucks and Incentivizing Cleaner Vehicles

Signed into Law

AB 2840 (Authored by Assemblymember Reyes) Warehouse Good Neighbor Policy

*This bill was used to score legislators in 2022

Failed

AB 2931 (Authored by Assemblymember Bloom) Oil and Gas Pipeline Safety

Signed into Law

SB 54 (Authored by Senators Allen, Stern, Wiener, Hertzberg, Skinner, and Assemblymember Luz Rivas) Plastic Pollution Reduction Act

*This bill was used to score legislators in 2022

Signed into Law

SB 222 (Authored by Senator Dodd) Low-income Water Rate Assistance Fund

Vetoed

SB 260 (Authored by Senators Wiener and Stern) Climate Corporate Accountability Act

*This bill was used to score legislators in 2022

Failed

SB 342 (Authored by Senators Gonzalez and Kamlager) Environmental Justice Seats on the South Coast Air Quality Management Board

*This bill was used to score legislators in 2022

Failed

SB 379 (Authored by Senator Wiener) Support for Residential Solar Permitting

Signed into Law

SB 674 (Authored by Senator Durazo) Workforce Development and Protections

Signed into Law

SB 887 (Authored by Senators Becker and Stern) Planning for a More Reliable and Safe Energy Grid

Signed into Law

SB 905 (Authored by Senators Caballero and Skinner) Framework for Carbon Capture Utilization and Storage

Signed into Law

SB 932 (Authored by Senator Portantino) Safety Improvements for Bicyclists and Pedestrians

Signed into Law

SB 953 (Authored by Senator Min) Ending Offshore Oil Drilling

*This bill was used to score legislators in 2022

Failed

SB 1010 (Authored by Senator Skinner) Transitioning state-owned fleet to zero emission and hybrid cars and trucks.

Signed into Law

SB 1020 (Authored by Senators Laird, Caballero, Durazo, and Atkins) Stronger clean energy targets to require renewable energy statewide and for all state-owned buildings.

Signed into Law

SB 1137 (Authored by Senators Gonzalez and Limón) Ending Neighborhood Oil Drilling

*This bill was used to score legislators in 2022

Signed into Law

SB 1158 (Authored by Senator Becker) Reporting and Accountability for Carbon Emissions from Utilities

Signed into Law

SB 1173 (Authored by Senators Gonzalez and Wiener) Divestment from of the Fossil Fuel Industry

*This bill was used to score legislators in 2022

Failed

SB 1203 (Authored by Senator Becker) Net-zero emissions of greenhouse gases: state agency operations

Signed into Law

SB 1230 (Authored by Senator Limón) Zero-emission and near-zero-emission vehicle incentive programs: requirements

Signed into Law

SB 1314 (Authored by Senator Limón) Stopping Big Oil's Greenwashing

*This bill was used to score legislators in 2022

Signed into Law

SB 1382 (Authored by Senators Gonzalez and Becker) Incentives for Electric Vehicles

Signed into Law

Advanced Clean Cars II approved: California moves to accelerate to 100% new zero-emission vehicle sales by 2035
Agency Action
California Energy Commission (CEC) adopted historic California offshore wind goals, enough to power upwards of 25 million homes
Agency Action
Public Utilities Commission (CPUC) eliminated state subsidies for developers to install new fossil gas lines to residential and commercial buildings
Agency Action
Memorandum of Understanding signed between the Yurok Tribe and California State Parks to authorize joint management of all portions of North Coast Redwoods state parks
Agency Action
California Air Resources Board (CARB) voted to ban the sale of new gas-powered furnaces and water heaters
Agency Action