Press Release
October 14, 2020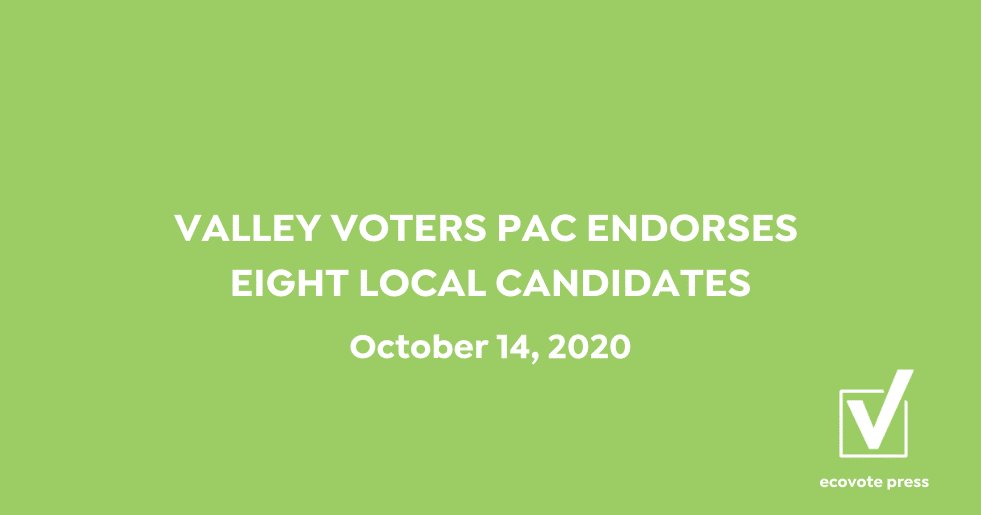 FOR IMMEDIATE RELEASE
October 14, 2020
CONTACT: 510.550.8173
[email protected]
VALLEY VOTERS PAC ENDORSES EIGHT LOCAL CANDIDATES
"Our hope for an environmentally-just future depends on elected leaders who care."
FRESNO, CA – This week, the newly-founded Valley Voters for the Environment and Health Political Action Committee (Valley Voters PAC) released their endorsements of eight local candidates for office. This announcement comes as mail-in-ballots are being sent to voters throughout the Central Valley.
Founded in the summer of 2020, Valley Voters PAC is working to elect environmental justice and public health champions to local offices across the Central Valley to protect public lands and access to clean air and water for all Valley residents. The PAC's members hope to educate local voters, and inspire volunteering and get out the vote efforts.
"We are excited to announce our endorsement of eight candidates for important local offices," said Nayamin Martinez, MPH, founding member of Valley Voters. "Our Valley has a lot to be proud of – from the diversity of our communities to our natural resources. But we also face many challenges. These candidates represent the type of bold leadership we need to deal with those challenges. They will put public health and environmental justice front and center and prioritize Black, Indigenous, and People of Color."
These endorsements come at a moment when the Central Valley has just experienced wildfires, extreme heat waves, and blackouts as a result of climate change, as well as the ongoing pandemic. The effects of these problems have been especially dire given that Valley communities are already dealing with economic challenges, a housing affordability crisis, and public health issues like air and water pollution.
More and more candidates locally are realizing that community and environmental health are key issues for voters. From city councils, to local water boards and school boards, these candidates are ready to make a positive difference in their community.
"We are proud that our endorsed candidates include a number of young people and People of Color," said Dr. Catherine Garoupa White, founding member of Valley Voters. "These candidates are breaking the mold of who runs for public office and bringing greater diversity of backgrounds and experiences to their campaigns."
She added, "the people of the Central Valley want a healthy, safe, and just community, which requires electing leaders who understand the importance of the environment and health."
Valley Voters for the Environment and Health List of Endorsements
Salvador Solorio-Ruiz, Delano City Council
Veronica Vasquez, Delano City Council
David Paredes, Area 5 Trustee at Fresno Unified School District
Dary Rezvani, Fresno SCCCD Trustee for Area 3
Daren Miller, Fresno County Board of Education, Area 3
Tyler Mackey, Fresno Water District, and At-Large Pinedale Water District
Stacy Williams, Central Unified School District Trustee Area 6
Jose Gurrola, Mayor of Arvin
# # #
About Valley Voters for the Environment and Health
https://linktr.ee/ValleyVotersPAC
Founded in Summer 2020, Valley Voters for the Environment and Health are working to elect environmental justice and public health champions for local offices in the Central Valley. With election season in full swing, we look forward to building community support for candidates that center environmental justice in communities across the Valley.
ABOUT CALIFORNIA ENVIRONMENTAL VOTERS
California Environmental Voters (formerly the California League of Conservation Voters) believes the climate crisis is here and this moment requires transformative change. California has the policy solutions to stop climate change but lacks the political will to do it at the rate and scale that's necessary. EnviroVoters exists to build the political power to solve the climate crisis, advance justice, and create a roadmap for global action. We organize voters, elect and train candidates, and hold lawmakers accountable for bold policy change. We won't stop until we have resilient, healthy, thriving communities, and a democracy and economy that is just and sustainable for all. Join us at www.envirovoters.org and on Twitter, Facebook, and Instagram. See more press releases.