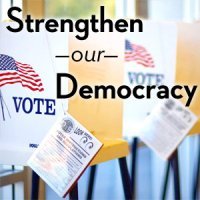 Great news! Starting today, Californians can register to vote online. Previously, voters could start the process online, but had to print and mail the form to register.
This improvement in voter registration happened because of a bill the legislature passed last year – SB 397 (Yee). CLCV strongly supported the bill and joined with California Common Cause and Democracy for America in a campaign that generated more than 10,000 signatures on a petition to Governor Brown in support of the bill.
Governor Brown listened and signed the bill. Since then, Secretary of State Debra Bowen has been working hard to implement the change in time for October 22nd registration deadline for the November 6th election.
From the San Francisco Chronicle:
"It's very exciting," said Secretary of State Debra Bowen, whose office is implementing the change. "I do think we'll have more people registering, particularly eligible voters under 30 who are just used to doing things online. And it makes it easier to ask friends and family to register. All you have to do is e-mail them a link – you don't have to carry around a pile of forms."
The change could certainly increase voter registration among young voters and other Internet-savvy Californians, said UC San Diego political science Professor Thad Kousser – but he doesn't expect it to change the political landscape in November.
"Study after study shows that the reason young people don't turn out isn't because they are disengaged, or care more about partying than voting, but that it's all about the difficulties, the logistical challenge of staying registered when you move a lot. So anything that makes it easier for voters of any age to register and reregister … has the potential to increase turnout across the board," he said.
We're very excited about this change and the potential increase in voter registration and turnout it could lead to. If you need to register to vote or update your registration, you can now do so online (do it now – it just takes a few minutes).
We can be particularly proud of California's leadership on increasing access to participation in our elections when we consider that throughout the country, other states are moving in the opposite direction. The news is full of headlines about states adopting new barriers to voting that make it harder for Americans to exercise their rights at the ballot box leading up to the 2012 General Election.
Improving access to our democratic processes is the right thing to do. But it also helps protect our environment. Time and again, we have seen that more voters equals better results for California's environment.
There's another change we're working for right now that could lead to an even bigger increase in voter participation – election day voter registration. AB 1436 (Feuer), which would allow voters to register up to and including election day, is sitting on the governor's desk, awaiting his signature. Send Governor Brown a message today to urge him to further improve access to voting in California.
Posted on September 12, 2012
in