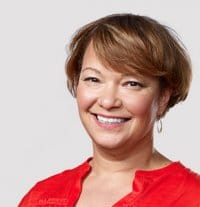 If you follow national environmental politics, you know the name Lisa Jackson. Since 2013, Jackson has served as Apple's Vice President for Environmental Initiatives. Prior to that, she was Administrator of the U.S. Environmental Protection Agency, appointed by President Barack Obama. Her career and experience in government and in business demonstrate time and again that effective leadership on these issues can and does come from all sectors, and CLCV is honoring her at next Thursday's Environmental Leadership Awards in San Francisco.
Jackson has overseen major strides in Apple's efforts to minimize its impact on the environment, including a notable increase in public transparency and support for climate policy. Apple's goal for itself and its suppliers is to achieve 100% renewable energy use; they are on their way with data centers that run on solar and hydro power and capture excess heat, and their future headquarters will boast a 2,900-acre solar array. They're also working to protect 1 million acres of forest land in China. Just this month Greenpeace released a report that gave Apple a 100% Clean Energy Index score.
"I think people expect Apple to do the right thing," said Jackson in an interview with the Wall Street Journal. "Data centers are a great example. Years ago Apple decided to make data centers 100% renewable. Our footprint could be entirely different today if we hadn't made that decision. Every time you talk to Siri or FaceTime with your mom or send an iMessage, you aren't generating carbon. This is a core value for us, and we're living it."
At the EPA, Jackson focused on reducing greenhouse gases, protecting air and water quality, preventing exposure to toxic contamination, and expanding outreach to communities on environmental issues. Among her achievements were rules to limit carbon emissions from power plants for the first time, and striking a deal to make U.S. cars more fuel-efficient. She has said her signature achievement was the "endangerment determination" under the Clean Air Act that greenhouse gas emissions pose a danger to human health. Jackson produced this finding–that carbon dioxide and other heat-trapping air pollutants "may reasonably be anticipated to endanger public health or welfare" and that motor vehicle emissions of those pollutants "contribute" to that dangerous air pollution–less than 90 days into the then-new President's term. The finding "paved the way for the agency to write the carbon-cutting rules."
Jackson has also served as Chief of Staff to New Jersey Governor Jon S. Corzine and as Commissioner of New Jersey's Department of Environmental Protection. She holds a master's degree in Chemical Engineering from Princeton University and a bachelor's degree in Chemical Engineering from Tulane University. She serves on the boards of Princeton, Tulane, and the Clinton Foundation.
Lisa Jackson is one of three extraordinary leaders who are being honored at CLCV's Northern California Environmental Leadership Awards to be held in San Francisco on Thursday, May 28th. Read about the other honorees, Annie Notthoff and Lisa Hoyos. For more information, visit http://www.ecovote.org/awards; to buy tickets or sponsor the event, visit http://www.ecovote.org/awards/support.
Posted on May 22, 2015
in