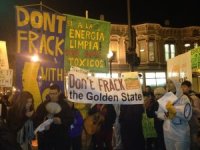 The movement to protect Californians from risky fracking suffered a disappointing setback today, as a bill that would impose a moratorium on fracking and other unconventional drilling practices fell five votes short in the state Senate.
SB 1132, authored by Senators Holly Mitchell and Mark Leno, failed 16-16 on a final reconsideration vote in the state Senate. At one point the vote count was as high as 18 Senators voting yes; we needed 21 for it to pass. At the last minute, during the final reconsideration vote, two of the Senators who had previously voted yes, Senators Hill and Block, came off the bill and abstained.
It's very important at moments like this that we don't give up. This is clearly a hard loss for our movement, but it is just one of many steps along the journey to protecting our state from risky fracking.
We're fighting back against the most powerful industry in the world: the oil industry. California's oil lobby, led by the Western States Petroleum Association (WSPA), spent more than $56 million lobbying the California Legislature from 2009 through 2013. They've spent an estimated $15 million so far this legislative session on lobbying activities to defeat the fracking moratorium. And despite their deep pockets, we came very close to getting this bill through the state Senate.
Compare that to just a few years ago, when we couldn't even get a simple fracking notification bill passed in the legislature.
More than 100 environmental, business, labor, health, social justice, and other groups worked together on this bill, and several counties and cities are now working on the local level to pass local moratoria on fracking and other risking drilling practices. This movement is alive, healthy and growing stronger by the day. We thank Senators Mitchell and Leno for believing in this bill and providing an important central rallying point for so many citizens and organizations.
It's also critical that our elected officials hear from us now so they don't make the same mistake again. The vast majority of Californians are concerned about fracking's risks to our health, our water, our air and our safety. Polling shows the majorities in favor of a moratorium are continuing to grow even larger. We believe a moratorium on risky drilling like fracking is a common-sense step to protect our environment, and we believe it is achievable with the astounding outpouring of grassroots support we've seen over the last few months.
We urge all California voters who care about our environment, clean air and precious water resources, climate change, and community health and safety to contact your State Senator and tell them how you feel about their vote on this bill.
Can you tell your Senator that you are grateful they stood up for California's environment and public health and voted yes, or that you are disappointed in their opposition to (or failure to vote for) SB 1132, the fracking moratorium? Let them know how you feel about their vote.
Here's how California Senators voted during the final reconsideration of the bill:
Voting YES: Beall, Corbett, De Leon, DeSaulnier, Evans, Hancock, Jackson, Leno, Lieu, Liu, Mitchell, Monning, Padilla, Pavley, Steinberg, Wolk
Voting NO: Anderson, Berryhill, Cannella, Correa, Fuller, Gaines, Galgiani, Hernandez, Huff, Knight, Morrell, Nielsen, Torres, Vidak, Walters, Wyland.
ABSTAINING: Block, Lara, Hill, Hueso, Roth
(NOTE: Three Senators can't and didn't vote because they are suspended and were not present for the vote: Calderon, Wright and Yee).
Background information:
Hydraulic fracturing, or fracking, and well stimulation are extreme oil extraction methods the oil industry is applying in urban and agricultural communities where millions of Californians live and work, including places like Los Angeles, Kern, and Ventura Counties. Fracking and well stimulation forcefully inject water mixed with sand, acid, and toxic chemicals into the ground to fracture or dissolve rock to extract oil or gas.
Fracking and well stimulation have been linked to air pollution, groundwater and surface water contamination, and destruction of open space and farmland. The impacts of these methods threaten the environment and public health and the vibrant tourism, outdoor recreation, technology and agriculture economies upon which our state economy depends.
Posted on May 29, 2014
in