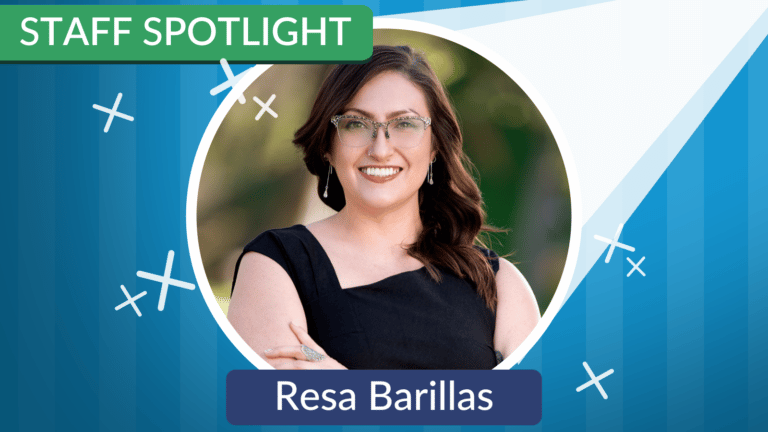 What do you do for EnviroVoters? What are you working on?
I'm the EnviroVoters Inland Empire Regional Organizer, which is a formal way of saying I work on growing power for environmental issues (particularly clean energy) in San Bernardino and Riverside Counties. My work is a good mix of hands-on advocacy with rulemaking bodies like the South Coast Air Quality Management District and city councils, community education and base-building on these issues, and collaborating with community organizations with shared values to move the IE to a sustainable future.
What inspired you to get involved in the climate movement? 
The climate crisis is already upon us, and I feel like it's the most pressing, impactful issue of our time, and being from a disinvested community, the impacts are highly visible. After the 2020 election cycle, I wanted to put the skills I'd developed through training and hands-on work on assembly, presidential, and proposition campaigns to work in a way that felt impactful, and the environmental movement was where I wanted to be. I want to leave the world a better place than the one I've come into, and I think that starts with a healthy environment. 
How are you involved in your community? 
Even before working on campaigns, I'd been organizing in my community and hosting informational events, but I've been especially hands-on in my son's schools, serving as school site council president, volunteering, and attending school board meetings. Currently I'm running for school board (Adelanto Elementary School District Area 4) to reduce our classroom sizes, tie teacher and staff cost of living adjustments to the rate of inflation, and strengthen our public schools so our families don't have to look further than the schools they're zoned for. 
What would you tell someone who's thinking about volunteering with EnviroVoters? 
Yes please! But really, whether you're talking with other community members or elected officials, the support of volunteers is so powerful because it demonstrates that the issue matters to people in the community, not just the people working for the organizations that care about the issue. Volunteer and community voices make a world of difference, and when more people volunteer with us, our message spreads further and faster.
What is something about your work or the climate movement that would surprise people? 
There are a lot of different ways to engage and no one way is the right way – you just have to find what's right for you. If you have the means to go zero-waste, that's amazing! If you have the capacity to make calls to your legislators, good on you! There is work to be done from within our systems and pressure to be applied from without, and there's a part to play for everyone who wants to take action. 
What's the best part of working at EnviroVoters? 
It's an organization that actually puts its stated values to work both externally and internally – we can show up as our full selves, we're recognized as whole people with full lives outside of work, and encouraged to take time off because we all understand the emotional toll this work takes.