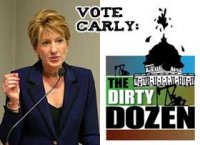 I hope this is the only time I'll ever say this: Carly Fiorina wins! The people have spoken, and our favorite failed CEO/Republican Senate candidate has received the equivalent of a Razzie award. That's right, Carly "climate change is just changes in weather" Fiorina has been added as the LCV People's Choice Dirty Dozen member of the year. And rightfully so. I think of it like that episode of Friends where Monica has to be the best at everything and ends up being the best at being the worst. Well, congrats Carly, you're the best of the worst when it comes to protecting the environment. I knew you had it in you.
Our friends at LCV had this to say:
Today, the League of Conservation Voters (LCV), which works to turn environmental values into national priorities, announced that Republican Senate candidate Carly Fiorina has been named to the 2010 Dirty Dozen as the next "People's Choice." Fiorina was chosen for the Dirty Dozen list through an online vote where she received 36 percent of the votes.

"When it's politically convenient Carly Fiorina supports climate action and when it's politically profitable she'll side with the corporate polluters funding her campaign," said Tony Massaro, LCV Senior Vice President for Political Affairs. "Fiorina's win as the 'People's Choice' clearly shows voters want a Senator who will create new clean energy jobs in California, not a failed corporate executive with a preference for killing jobs."

Fiorina has received about $63,000 in donations this year from out-of-state coal interests and $76,850 from oil and gas companies.* As CEO of Hewlett-Packard, Fiorina laid off approximately 18,000 workers during HP's restructuring in 2003 and then later said she regretted not firing more people.** Speaking at the 2008 Republican National Convention in Minneapolis, Minn., she praised Sen. John McCain's (R-Ariz.) cap-and-trade plan as something that would "both create jobs and lower the cost of energy."*** Yet Fiorina has campaigned and run ads on her opposition to comprehensive clean energy and climate legislation, including a commercial against Senator Boxer's stance on global warming claiming that Boxer is "worried about the weather."

"Carly Fiorina is drastically out of step with the American businesses, veterans and workers that are all calling for a clean energy economy and greater energy independence," said Massaro. "The people have spoken and we will work hard to fulfill their request for Carly Fiorina's defeat this November."
Amen.
Next step: let's re-elect Barbara Boxer to the Senate this November!
Posted on September 1, 2010
in