In September 2023, California Governor Gavin Newsom announced that the state of California is suing five of the world's largest oil companies for lying to the public for decades on the very damaging health and community impacts from using fossil fuels as energy. The suit charges Exxon Mobil, Shell, Chevron, ConocoPhillips, and BP with creating a public nuisance, harming public health, damaging natural resources, false advertising, and unlawful, unfair and fraudulent business practices.   
California's new lawsuit against oil companies only strengthens the case for divesting our state's largest pension funds from fossil fuels. In the past, calls for divest​ment​ have been met with resistance from politicians who believe that fossil fuel companies need to be part of the solution to climate change. But that ​view ​is rapidly losing support.  
California's leaders know who's at fault
Speaking at the United Nations Climate Ambition Summit, Governor Newsom said "This climate crisis is a fossil fuel crisis. It's not complicated. It's the burning of oil. It's the burning of gas. It's the burning of coal. And we need to call that out." 
 "For decades and decades, the oil industry has been playing each and every one of us in this room for fools," Governor Newsom added. "They've been buying off politicians. They've been denying and delaying science and fundamental information that they were privy to that they didn't share or they manipulated. Their deceit and denial, going back decades, has created the conditions that persist here today."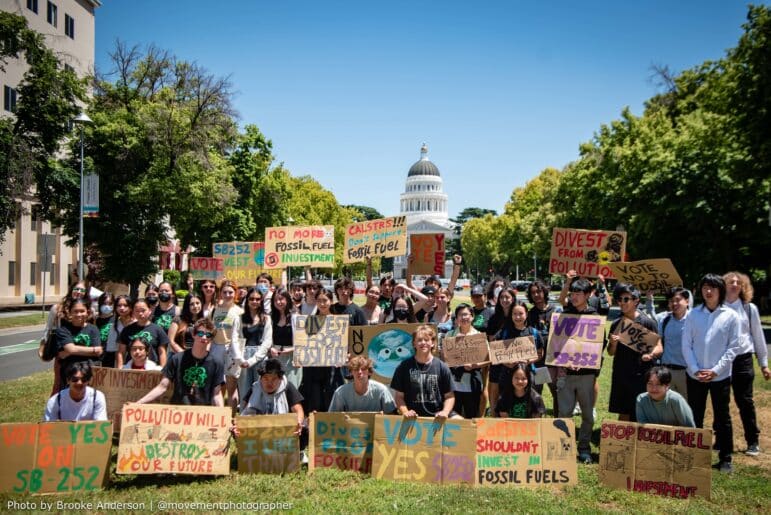 Members of the group Youth vs. Apocalypse posing in front of the State Capitol at a lobbying event co-hosted by EnviroVoters in support of Senate Bill 252. Photo credit: Brooke Anderson
Governor Newsom is not the only top California Democrat using strong language about the fossil fuel industry. 
Attorney General Rob Bonta said "Oil and gas companies have privately known the truth for decades — that the burning of fossil fuels leads to climate change — but have fed us lies and mistruths to further their record breaking profits at the expense of our environment. Enough is enough." 
 And State Superintendent of Education Tony Thurmond agreed: "It's beyond time for us to stop supporting industries that destroy our environment & hurt communities of color."  
It's clear that many of our state's leaders are in agreement that fossil fuel companies are the root of the climate crisis. But beyond suing the companies directly, we need to hit the largest oil companies where it hurts: their investment funds. At this point in time, California's state public pension funds for public school teachers and state employees are currently investing over $4 billion in those very same companies.
Thanks to the leadership of Assembly Speaker Robert Rivas, the state legislature just passed SB 253 (Wiener), requiring large companies operating in the state to disclose their complete greenhouse gas emissions and SB 261 (Stern), requiring corporations to disclose their climate financial risk. The passage of these two bills along with California's lawsuit against Big Oil is creating the momentum needed for the state's public pension funds to divest from fossil fuel companies.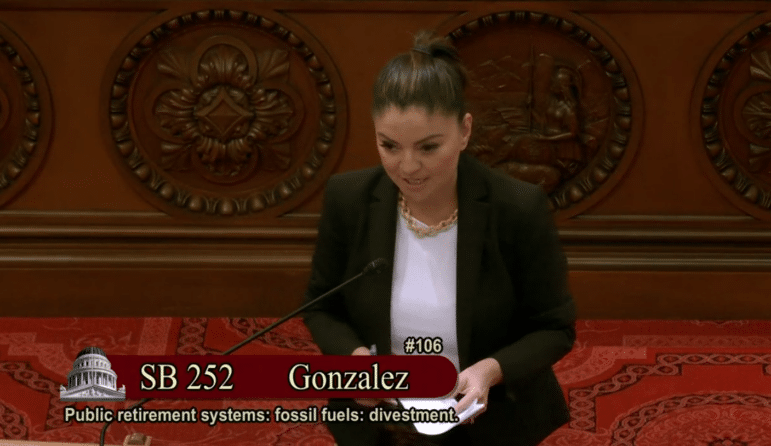 Senator Lena Gonzalez presenting her bill SB 252, which would require California's public pension programs to divest billions of dollars from fossil fuels. Photo Credit: California State Senate Media Archive
Divestment has been proven to be an incredibly powerful political tool. By starting the process of reducing the outsized influence of an industry on our political system, divestment makes it possible to generate the larger-scale government action needed to make a change. And it's been done with great success before!
The tobacco divestment movement is a perfect example. The movement made it unacceptable for politicians to take their campaign contributions and that in turn made it possible for the first time to pass public health legislation aimed at reducing smoking. And in the 1980s, the divestment movement from South African Apartheid was critical in the path to abolishment and ultimately leading to economic sanctions. That is the incredible power of divestment. 
Studies have also indicated that divestment from fossil fuels is financially prudent. New York City hired two financial consulting firms to independently write reports on divestment. They found investment funds have experienced no negative financial impacts from divesting from fossil fuels and have actually found evidence of modest improvement in fund returns.  
Photo credit: hanhanpeggy from Getty Images
Recognizing the conclusion that the fossil fuel industry is directly at odds with our climate goals, State Treasurer Fiona Ma has called for California's pension funds to divest from fossil fuels, saying, "Divestment sends a message to companies that have shown little interest in seriously addressing a problem that places human existence in peril for the sake of profits: time's up." 
2024 is the year to divest from fossil fuels
California Senate Bill 252 (Gonzalez), the Fossil Fuel Divestment act would be a huge step towards living out our values of investing in California's climate resilient future by successfully passing the final part of our high priority Climate Corporate Accountability package. The bill has been postponed until the 2024 legislative session and we are working hard to get it passed. 
California has become an international leader on climate action. As the world's fifth largest economy what California does has not just national but international consequences. After the state passed legislation outlawing the sale of gasoline cars after 2035, 17 states followed suit and passed similar policies. Now is the time for the state's huge pension funds to divest from fossil fuels so that the rest of the world can follow suit.
Share this article to spread the word about the importance of fossil fuel divestments by our state's public pension programs!
9 transformative climate and environmental bills were signed into law this year in no small part thanks to our year-round advocacy work in Sacramento and across the state. Check them all out on our legislative wins page!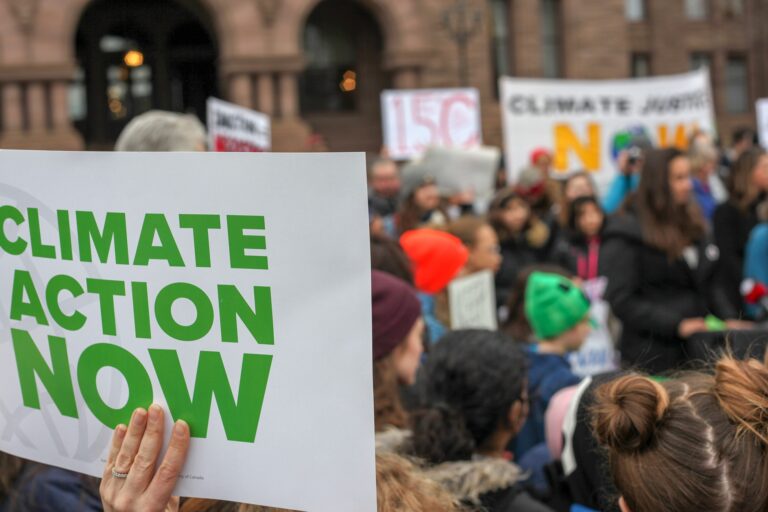 Your support changes what's possible for our future and our environment.