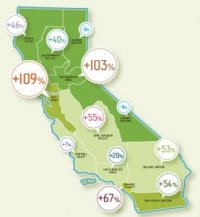 Today a report was issued by our friends at nonpartisan think-tank Next 10 that shows green jobs in California growing more than three times faster than overall state employment.
It wasn't so long ago that Texas oil companies and other supporters of Proposition 23 (the Dirty Energy Proposition on the November 2010 ballot) were arguing that California's landmark clean energy policies needed to be suspended because enforcement would stunt the state's economic recovery. Next 10's report shows just the opposite: The green job sector is leading the state in economic growth.
The report shows that between 1995 and 2009, green jobs expanded from 111,000 to 174,000, growing 56 percent. And this growth is happening across the state and across multiple job sectors.
The Bay Area and the Sacramento Area led the state in green job growth, expanding by 109% and 103% respectively since 1995. Job growth hasn't been confined to Northern California though – green jobs grew in Orange County by 67% and the San Joaquin Valley by 55%.
From 1995 to 2009, the energy generation sector created the most green jobs, adding nearly 20,000 jobs across the state, including almost 3,000 jobs from January 2008-2009, at the height of the economic recession.
And while some sectors declined in the overall California economy, they grew in the green economy. Manufacturing stands out. Although manufacturing has declined in the state, green manufacturing jobs increased 10% from January 2008-2009.
The report's worth reading in full, as it breaks down numbers by region, sector, and more. Plus, it features lots of colorful graphs that make the numbers easier to digest, like this one:
It's clear from this report that green jobs are growing in importance to California's economy. Thanks to California voters, the overwhelming defeat of Prop 23 will keep the Golden State on a path that leads not to economic decline, but to job growth.
Posted on January 19, 2011
in