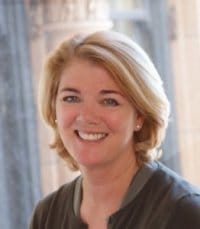 If it's a California environmental law and you've heard of it, chances are good that Annie Notthoff helped get it passed.
Annie, who is Director of the Natural Resources Defense Council's California Advocacy program in San Francisco and has been a member of the CLCV Board of Directors for more than 20 years, has played a leading role in the efforts to secure many of California's landmark environmental laws.
"The California state of mind means something real to me," says Annie. "Sun, sand, oak studded tawny hills, crashing waves and lots of people from lots of places with lots of big ideas." At the Natural Resources Defense Council (NRDC), Notthoff works with a wide variety of people, from state leaders to grassroots groups, to promote environmental and public health protection in California. (Watch her recent address to the Bay Area League of Women Voters on climate change here: https://www.youtube.com/watch?v=vkyjgpRLeAs)
Annie manages statewide campaigns and represents NRDC in the State Capitol and Washington, D.C., on a wide range of issues including climate change, water policy, smart growth, and coast and ocean protection.
A short list of her successes includes the California Marine Life Management Act (AB 993 in 1999), the state's first global warming bill (AB 1493, 2002), the landmark Global Warming Solutions Act (AB 32, 2006), the Sustainable Communities and Climate Protection Act (SB 375, 2008), water policy reforms, the defeat of Prop 23 in 2010, the ban on the sale and distribution of shark fins (AB 376, 2011), and Prop 1, the Water Bond, in 2014.
Notthoff has an undergraduate degree in Community Service and Public Affairs from the University of Oregon and a master's in City and Regional Planning from UC Berkeley. She and her husband Dwight Holing have two grown children and live in Orinda, CA. She has held appointed positions on the California State Oil Spill Technical Advisory Committee, the San Francisco Harbor Safety Committee and the CALFED Bay Delta Advisory Council, and is currently a Senate Rules Committee appointee to the State Coastal Conservancy.
Annie is one of three extraordinary leaders who are being honored at CLCV's Northern California Environmental Leadership Awards to be held in San Francisco on Thursday, May 28th. For more information, visit http://www.ecovote.org/awards; to buy tickets or sponsor the event, visit http://www.ecovote.org/awards/support.
Posted on May 20, 2015
in