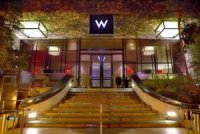 It started with a simple message: the workers at Hyatt Hotels across the country were embroiled in a bitter labor dispute. Meanwhile, we had secured our venue for our annual Southern California Environmental Leadership Awards at the X Bar in the Hyatt Regency in Century City.
Admittedly, we were looking forward to our gala being held at the X Bar. After all, in the last few years, we have enjoyed a great relationship with their staff and a comfortable venue that our attendees have enjoyed. It doesn't hurt that this is also the same hotel that then-candidate Barack Obama held his California election night party. Despite all of this, for us, our decision to move our upcoming fundraiser to a new venue was a no-brainer.
For nearly a decade now, the environmental movement has had a solid relationship with the labor movement. Ultimately, our causes go hand in hand. Who better than laborers would know the environmental hazards and health consequences from working near and on congested freeways, old buildings with asbestos, the smoggy ports of Los Angeles, Long Beach, and Oakland, and the like? In the end, the environment is just as much about protecting people as it is everything else. It's for this same reason that CLCV's annual awards galas are always held at labor-friendly venues — and this year will be no different.
We certainly hope the Hyatt Regency and our labor friends reach an agreement they're both happy with, but until then we're looking forward to the new location of our Environmental Leadership Awards: the W in Westwood. It's true. We're addicted to venues with single letters in their names. Perhaps next year we will hold our event at V Lounge in Santa Monica or a similar single letter venue — but only if they're labor-friendly.
Posted on September 29, 2010
in